Hello world, we are HealthBlocks!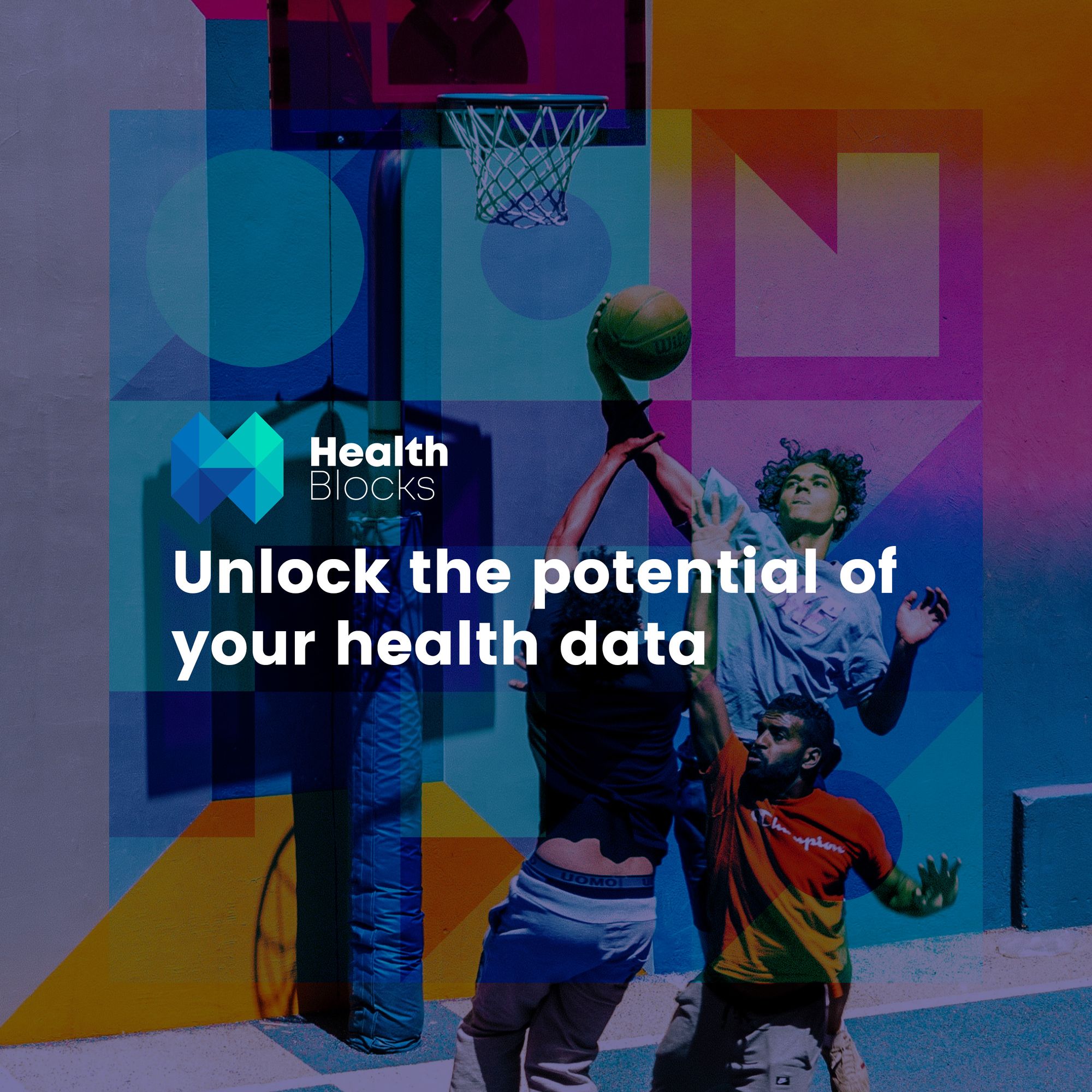 HealthBlocks is an ecosystem built on top of the IoTeX blockchain that helps people to regain control over (consumer) health data and valorize it the way they see fit. We believe there's only one rightful owner of (health) data and that's the user!
Healthcare systems all around the world are under great pressure; expenditures are going through the roof, there is shortage of trained personnel and the demand for healthcare is growing out of control. In most western societies more than 50% of the adult population has one or more chronic diseases, more than half of the adults have obesity and mental health problems are rising to alarming levels.
Our healthcare systems are designed to act reactively and are best in treating acute diseases and trauma, it's designed to be a diseasecare system. Whereas the greatest challenges at this moment lies in the prevention and treatment of chronic diseases which have a deep connection with lifestyle factors and can be prevented by living healthier.
With HealthBlocks we build an ecosystem that is focused on creating true healthcare that incentivizes people to live a healthy lifestyle but also gives access to support systems when needed. By unlocking the potential of data and being a driver of innovation we want to create a personalized digital health experience. Our goal is to facilitate the next leap in the human (healthy) life span.
Because we are building this ecosystem from scratch we have the opportunity to incorporate fundamentals we believe in like data ownership, trust and fairness. We believe that users should always be the owner of their data, have control over what happens with it and need to be able to profit from its value.
HealthBlocks ecosystem
The HealthBlocks ecosystem makes it possible to generate, store, exchange and analyze your consumer health data in a fully private and trusted manner. Interactions within the ecosystem are driven by a token model (HEALTH token).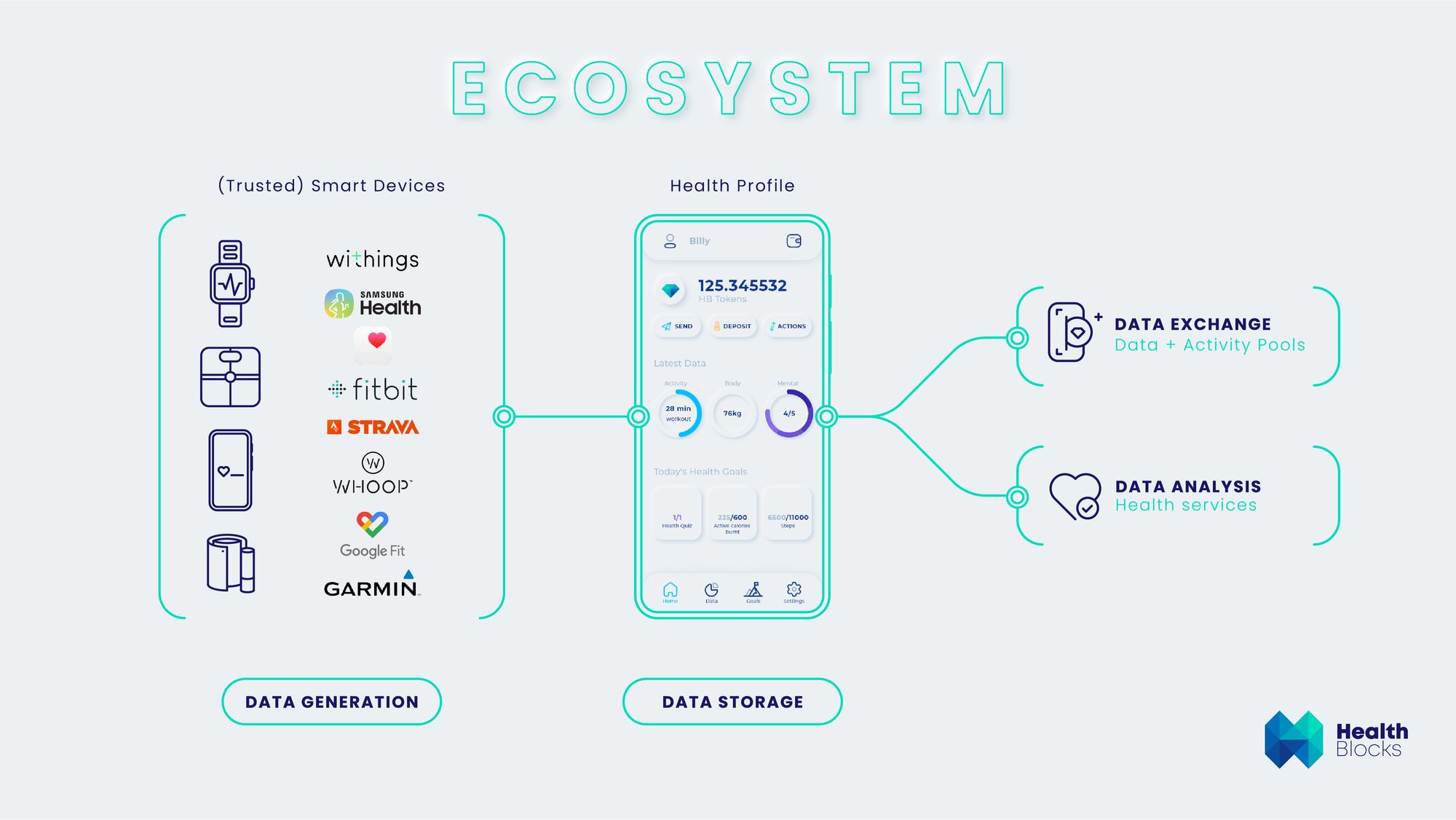 The ecosystem will consist out of the following components:
Data generation — (trusted) devices
By generating consumer health data with smart devices, wearables and smartphones HEALTH tokens are mined. Users can earn HEALTH by completing health goals. To achieve a fully trusted ecosystem we will require trusted hardware. We are well aware that the current hardware that is used by owners is not trusted by design that's why we strive to build alternative devices that register verifiable real-world data which is directly owned by the user.
Data storage — Health Profile (Decentralized Identity)
All health data in one secure place, your personal Health Profile, stored in a decentralized identity (DID) on the IoTeX blockchain. The first step towards data ownership, control and privacy.
Data exchange — Data & activity pools
Trusted data and activity pools let you exchange your data in return for $HEALTH tokens. In data pools you can opt in or out to share your data with third parties. Data pools are started by data requesters and get access to the data of users that opt in for that data pool. The datasets will be shared anonymously and there is full transparency about who the data requester is. Potential data requesters are research institutions, AI/ML developers, commercial parties. Activity pools incentivizes users to get active and work on their health and contribute to a good cause at the same time.
Data analysis — Health services
HealthBlocks will offer health services to make a real impact on your health. You can create a personal digital health experience by making use of our services like telehealth consults, data services or in depth testing.
The road ahead
We are driven by the ambition to improve healthy lifespan for everyone! We are also well aware of the long road ahead of us. Many components of the HealthBlocks ecosystem are built with new technologies that hold great potential but also have some challenges to overcome. However, our roadmap is clear and we will build HealthBlocks step by step making it possible for users to own, store, exchange and analyze their health data in a fair and impactful way.
On this blog we will give more insight about the development of HealthBlocks and keep you posted on the progress we make.
Join us in our journey! Become a HealthBlocks pioneer and show institutions, organizations and hardware manufacturers that people want a different option.
How can you become a HealthBlocks pioneer?
Sign up to become a Beta tester: on our website you can subscribe to become the first to test out the beta version of our app and become eligible for Airdrop and other cool stuff! Be quick because there are only limited spots available.
Follow us on our channels: twitter, telegram, newsletter
We together are HealthBlocks!